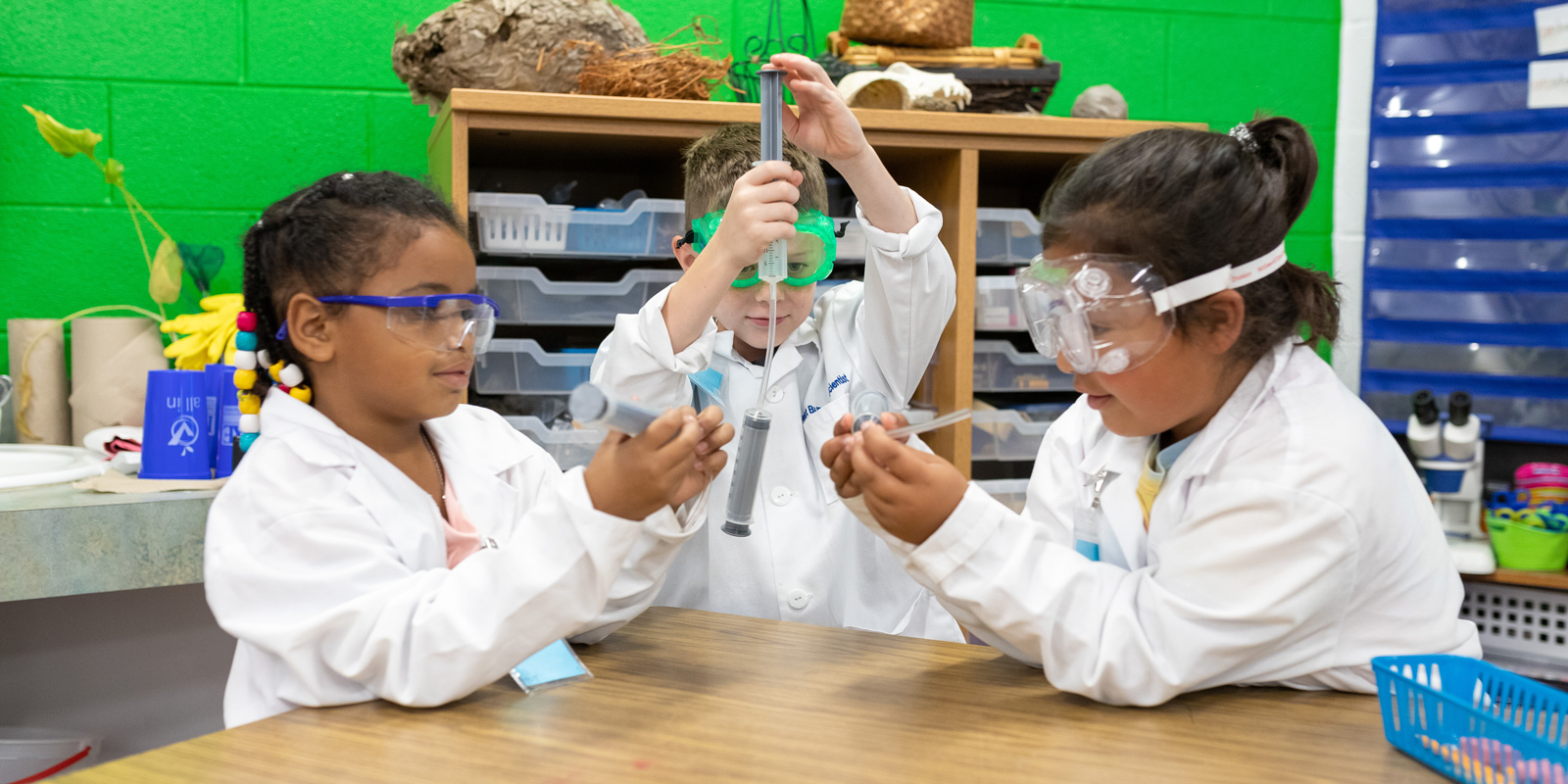 NORTH CAROLINA'S COMMITMENT TO STEM EDUCATION
Although North Carolina has historically had a strong business climate, the state is undergoing a critical economic transformation, moving rapidly from a low-skill, low-wage economy to a high-skill, knowledge-based economy driven by technology and innovation. These changes demand an adaptable workforce - one with the science, technology, engineering and mathematics (STEM) skills embedded within the critical 21st Century skills required for successful citizenship. To maintain North Carolina's supremacy, future workers must have the STEM skills leading companies demand and the citizenship the 21st Century now requires for success.
Fortunately, North Carolina can boast a high number of statewide and local STEM education initiatives, as well as strong education standards and public and private organizations promoting education innovation in their communities and regions. No matter their geographic, political, or economic disposition, North Carolina's leaders agree that a coordinated, statewide STEM Education Strategic Plan with clear direction, support and goals is needed to ensure a workforce that is prepared for the high-skill, high-wage and high-demand jobs of a knowledge-based and innovation economy. The plan must be built on a shared vision that leverages public and private resources in the most effective and efficient manner possible, moving North Carolina further and faster toward a world-class workforce and sustained economic growth and development in a global market.
North Carolina is poised to lead the nation with vibrant STEM-based education and economic systems. It is time for North Carolina to connect the many "islands of excellence" across the state into a bright future for all its citizens and communities. To build and maintain the world-class workforce needed to ensure economic prosperity in a global market, North Carolina must focus on the following three priorities and measure our progress against these strategies:
Priority 1: Increasing our student, educator and institutional STEM Achievement.
Strategy: Adopt a set of attributes for STEM schools and programs, aligned with 21st Century Skills, to assist public and private organizations to align, coordinate and advance STEM skills for all students.

Strategy: Measure a set of student achievement indicators along the education-to-workforce continuum to guide the current and future implementation of the STEM Strategy.

Strategy: Implement a recognition program for Future-Ready STEM Schools and Programs of Achievement, aligned with the STEM Attributes and high student achievement indicators.

Strategy: Identify high-quality tools and supports – such as rubrics, self-assessments – to enable schools, programs and businesses to advance consistent understanding and application of the adopted STEM Attributes.
Priority 2: Gaining and sustaining broader community understanding and support for education innovations that support our economic needs.
Strategy: Coordinate a public awareness campaign to 100 counties utilizing public/private partnerships, to inspire and engage North Carolina citizens in this economic challenge.

Strategy: Identify and convene leading programs, partners and schools to advance and highlight best practices to every county.

Strategy: Provide a one-stop action-oriented resource for students, educators, parents, and businesses to get involved in the STEM initiative.
Priority 3: Connecting, leveraging & increasing STEM Resources across public and private sectors to improve our citizens and their economic future.
Strategy: Invest public and private funds over the next ten years to scale effective STEM programs, policies and practices throughout every economic development region of North Carolina

Strategy: Identify and fund a public/private partner that coordinates, evaluates and monitors STEM Education programs and initiatives

Strategy: Incentivize collaborations based on evidence-based policies, programs and practice that greatly increases the number of students gaining STEM skills and continuing in STEM fields of work.

Strategy: Establish a STEM Council to facilitate and coordinate the implementation of North Carolina's comprehensive STEM Strategic Plan.